We are cricket farming experts
Leading cricket farming technology from the North
A BRILLIANT FUTURE AWAITS
Here at EntoCube, we develop technology for rearing edible insects. The food industry is utilising growing amounts of edible insects and implementing them into our food system as a sustainable option. EntoCube is a Finnish pioneer that develops industry leading solutions for the farming of edible insects.
Insects are the choice of the future and EntoCube spearheads the advance, join the journey!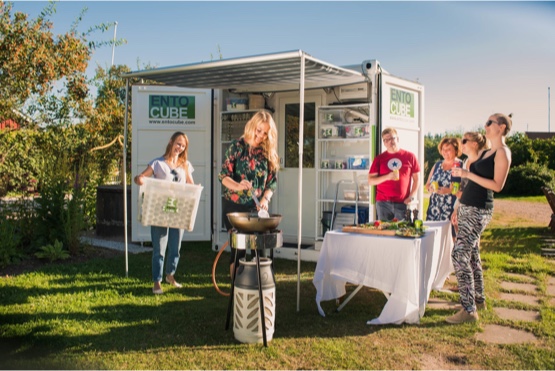 LIVESTOCK OF THE FUTURE, ALREADY TODAY
Day by day the food industry is utilising growing numbers of edible insects. The time to join the edible insect industry is now, as the European market is expected to grow rapidly during the upcoming years. We want to help you succeed in the farming, sales and usage of edible insects. We will also support you in implementing insects as a food ingredient in industrial manufacturing processes.
"Edible insects are an inspiring opportunity."
Henri Álen ja Tommi Tuominen
Chefs, Ultima
"Having cricket portions on the menu has definitely increased our visibility, sales and the number of interested customers."
Matti Hälvä
Chef, Ravintola Fat Lizard
"The farming equipment and solutions from EntoCube save us time and we are able to gain steady and healthy cricket yields with high reliability."
Kirsi and Jouko Siikonen
Owners, Siikosen Sirkat
"By serving cricket food we are able to reach customers who consciously value healthy, climate friendly and trendy foods."
Leena Pihlajamäki
Head of Business Activities, UniCafe
Our quality cricket products
EntoCube cricket products are made solely from responsibly reared crickets originating from the EntoCube farming network. We value farming practices where our crickets are treated with good care. The end products are laboratory tested regularly and our products are processed with competent hands. EntoCube crickets have the Finnish "Made in Finland" and "Of Finnish Origin" certificates.
Samu frozen house crickets
Samu's frozen crickets have been heat-treated before final packaging and freezing.
This makes them an excellent, diverse and safe ingredient for filling dishes. 
Starting from 30€/kg
VAT 0%
Samu roasted house crickets
Samu roasted crickets are crunchy and nutty. They have a beautiful rich flavour and they are excellent whole in salads or can be mixed in as cricket powder in a wide variety of dishes. 
Starting from 100€/kg
VAT 0%
Samu house cricket powder
Samu cricket powder has been refined from roasted Samu crickets. Our cricket powder has a mild, delicate taste. It adds nutritional value, texture and excitement to any dish.
Starting from 100€/kg
VAT 0%
Our team has a decade of combined experience from the edible insect industry. Ask and we will answer!
– Jaakko, CEO/EntoCube