Our vision is to feed two planets. Our journey began when Robert, an astronaut candidate and civil engineer, stepped inside a heated office container at a construction site mid-winter 2013-2014 and had a realisation: this environment could be a solution for sustainable food production on Earth. Ecological and nutritious edible insects can be grown in climate-controlled environments in the middle of the snow, the desert or the vacuum of space.
From Idea to Practice – 

The

 First Commercial Cricket Farm 

in Finland 

Was Built in 

Otaniemi
Robert's idea launched the story of EntoCube. Soon the largest cricket farm in the Nordics was built in Espoo into a shipping container, which housed up to a million house crickets in its hay day. At times neighbouring office workers got to enjoy chirping melodies when an adventurous male cricket went out searching for a bride behind the refrigerator of a nearby kitchen.  
Word spread and soon the "Cricket Guys" from Otaniemi were known throughout Finland as the ambassadors of edible insects. To take the food revolution to the next stage, the first edible insect product in the Nordics was launched into Ruohonjuuri stores before Christmas 2016 as a kitchen decoration: it was the EntoCube Cricket Jar. 
At a time when edible insects in Finland were unknown and illegal, EntoCube's Cricket Jar and Cricket Bag kitchen decoration products shot up public awareness and activated the grassroots level movement. As Finland was transformed into the most insect food friendly country in the world with 70% public approval, the legislative ban was finally lifted in November 2017 and an entire new industrial sector was built up from nothing. 
Now EntoCube is the leading company in the Nordics for insect farming technologies and edible insect food products. We have turned our attention to insect mass production in existing farm buildings and internationalisation. We are proud to work around Finland with a network of contract farmers who grow crickets with ever-improving, patented EntoCube farming technologies and methods. Our partner network includes the food and agriculture industries, research institutes, universities, municipalities, farmers and schools here at home on Earth as well as NASA, ESA and the aerospace industry to feed two planets – and the Moon while we are at it.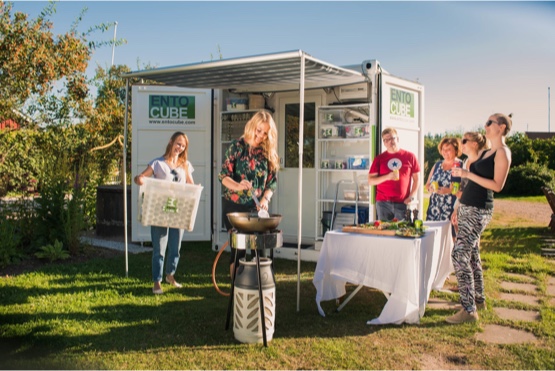 Toward
 a Sustainable Food System
You and I, your neighbor's dog and the evening news anchor – we all need to fill our bellies and treat our taste buds with nutritious and delicious food, which Mother Nature gifts us. We are now faced with the existential challenge of finding sustainable alternatives in food production. That is why we at EntoCube have developed insect farming technologies since 2014.
Honestly – Earth's ability to sustain the growing human population is dwindling and the unsustainable food system is one of the leading causes. The science is clear. The last time Earth's atmospheric CO2 level was as high as it is today the temperature was 2-3 °C and sea levels 25 meters higher – there was also a rainforest in Greenland. In Germany, 75 % of flying insects have vanished in the past few decades – as have 50 % of some bird species in France. According to a WWF report, humanity has wiped out 60 % of animal populations since 1970.  During four consecutive years Finnish farmers have endured crop failures due to extreme weather. Studies indicate that there is a 5 % likelihood that humanity can limit temperature rise to 2 °C. The direction is set. 
During the darkest times the source of light is the brightest. The EntoCube team is determined to fix the broken food system. The road to adapt to the climate crisis in a delicious way is production of sustainable alternative proteins in climate-controlled environments with circular economy. Our enterprising team is made up of engineers, biologists and business experts. We are united by a mission to change the world and by love for food and its origins. Join us on this journey!